MALTA - Summer camps for children and teenagers


Language and Leisure (LAL) 2008 English courses for adults

Courses for adolescents MALTA - Sliema (age 13 - 18)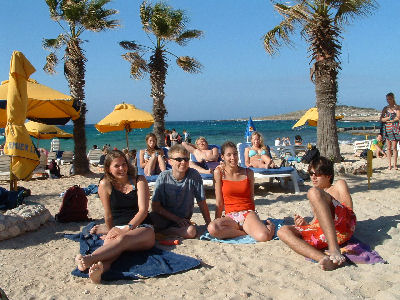 Tuition:


The programme of this course was developed with particular care to guarantee that the teenagers will spend time in a both enjoyable and productive way. It is synchronised with a leisure programme. The classes take place every day from 9:00 until 12:30 in groups of maximum 10 people. These are 2- or 4-week courses on all levels of proficiency (after at least a year of English learning).

Care

:


The school's team of experienced guardians organizes and supervises the whole day's programme and is always ready to listen to individual student's requests. Every Monday the students are invited to an evening integration party during which the newly arrived participants are welcomed by the staff and other students.

Accommodation with a family

:


Families, most of which have been hosting students for years, are carefully chosen to guarantee the best atmosphere possible for the students. Most families live in apartments or houses and, if possible, host 2 to 4 students of different nationalities. Students live in double rooms. Most families live in Sliema and the neighbouring districts of St. Julian's, St. Andrew's, Gzira, Swiegi, San Gwann and Ta'xbiex. Students usually go to school on foot, however, you can also use the cheap public transport.

Extracurricular activities:


All students are invited to the welcome party for the newly arrived students every Monday, where they get full information about extracurricular activities in which they can take part and where they meet their peers and the school's staff. Two-week courses include a full day trip to Gozo (Easter course) or an evening boat trip (with music) to the Comino Island (summer course), a full day trip round the Malta Island and an evening disco every week. Moreover two other interesting possibilities for spending free time are offered free of charge every week. These may be a trip to a glass factory, karaoke, sports, trips to interesting sights such as Valletta or Mdina. Sports are on offer every day: football, volleyball, visits to sandy beaches allow for spending the time actively. The students of 3 or 4 week courses have a right to a half-day trip, a disco and two additional activities every week. All of the above mentioned activities take place under close surveillance of the guardians.

Other leisure activities:


Apart from the regular timetable of extracurricular activities that is included in the price of the course, other trips are also offered (the tickets are paid on the spot, at a discount) to such places as the Blue Grotto, Valetta, Mdina, Gozo. Apart form that there are: barbecues, bowling evenings, cinema, horse riding and diving. The prices differ from 1.95 LM (cinema, bowling) to 8 LM (diving).

Public transport:


The school is located in the cit centre and most students walk to school, however, there is also a well-developed and cheap public transport network.

Language course:


This course has been very popular with teenagers for many years and is designed to answer the requirements and needs of the teenagers. Teaching materials prepared specially for summer courses for adolescents, are exceptionally efficient in supporting the learning of English. The programme includes role-playing, discussions, grammar exercises and listening activities, as well as written assignments. In advanced groups subjects such as politics or current affairs. The course comprises 20 classes a week, 45 minutes each + 5 extracurricular activities a week in the morning classes. The maximum group size is 12 students.

PRICES 2008
The price includes: accommodation in a shared room (accommodation in a single room is possible at a surcharge), registration fee, teaching materials, transfer from and to the airport, extracurricular activities.
Accommodation
Beginning of the courses
2 weeks
3 weeks
4 weeks
Additional night
Additional charge in the summer season
With a family (shared room)
09/03 - 17/10
683
972
1,261
22
99
With a family (single room)
781
1,119
1,457
29
148
Merill Residence (shared room)
865
1,245
1,625
35
57
LAL Malta Hotel (shared room)
809
1,161
1,513
31
78
Courses start every Monday. Students may arrive on Saturday on Sunday. Courses may also begin on Thursday, then the arrival should be scheduled for Wednesday.
Example timetable of the extracurricular activities in the programme for adolescents
Week 1
| | | |
| --- | --- | --- |
| Day | Afternoon | Evening |
| Monday | A walk around Sliema with the guardians. Afternoon in LAL Beach Club with a swimming pool. | Walk around St. Julian's and afterwards a welcome party |
| Tuesday | A trip with a guide to Mdina and Rabat, audiovisual presentations - The Mdina Experience and the Mdina Dungeons. | Student evening in the open air, disco. |
| Wednesday | Afternoon in LAL Beach Club with a swimming pool. | Student evening w Ta' Gianpula Night Club in the open air |
| Thursday | Sightseeing: Seven colourful Blue Grotto Caves and the Limestone Heritage, sculptures made of limestone. Swimming. | Chilled Party in LAL Beach Club with a swimming pool. |
| Friday | OPTIONAL an afternoon trip (return in the evening) on the Gozo island. Swimming. | |
| Saturday | Full day boat trip to the Blue Lagoon on the neighbouring island of Comino. | Student evening and a disco at Buskett Open Air Night Club. |
Week 2
Day

Afternoon

Evening

Monday

Afternoon in LAL Beach Club

with a swimming pool

Disco

Tuesday

Barbeque on Sandy Beach. Beach sports, music and the evening meal.

Wednesday

Afternoon in LAL Beach Club with a swimming pool

Student evening with a disco at Malta Sports Club.

Thursday

Guided trip to Barracca Gardens in Valletta Audiovisual presentation – The Malta Experience.

Mr. & Mrs LAL Animation Evening

Friday

Boat cruise to the island Comino, disco on the deck.

Saturday

Full day guided trip to the south and the centre of Malta. A visit to: Mosta Dome, Bomb Shelters, Crafts village, Dingli cliffs and a stay at Golden Bay (swimming).

Student evening with a disco.
Week 3
| | | |
| --- | --- | --- |
| Day | Afternoon | Evening |
| Monday | Afternoon at LAL Beach Club with a swimming pool. | Pizza evening |
| Tuesday | A visit to the Mediterraneo Marine Park. Sea lion and dolphin shows. | Student evening with a disco |
| Wednesday | Diving in the Neptunes Swimming Pool, Sliema. | Student evening with a disco Ta' Gianpula open Air Night Club. |
| Thursday | Bowling at Eden SuperBowl. | Film evening |
| Friday | Afternoon at Paradise Bay Sandy Beach, probably the most beautiful beach on Malta. | Student evening with a disco or a trip Comino by night (on demand, depends on availability) |
| Saturday | A trip to aqua park, pools, slides, artificial waves. | Student evening with a disco |
How do you become a LAL student?
All formalities connected with the stay, reservation, transport, etc. can be arranged in person or via post at "LEXIS" - College of Foreign Languages or our agent. After choosing a course, accommodation type and other services, you fill in an application form, sign he agreement and transfer the due amount of money in PLN to the "LEXIS" bank account. Then you send the application formula, one copy of the agreement and the money transfer receipt to us by post or fax, so that it arrives at least two weeks before the course beginning (persons from cities other than Warsaw contact an Agent).
Before departure you receive:
· confirmation of the enrolment on a course together with an appropriate letter for the customs officers in the UK, so that you will not have any problems with crossing the border,
· plane ticket - if you choose to travel from Warsaw (persons from cities other than Warsaw contact an agent),
· confirmation of the accommodation booking, together with the address, telephone number and a short characteristics of the host family,
· an invoice for the services ordered.
Recommend us to a friend write to us - we will send you a cost calculation back to courses on Malta